Thursday, October 30, 2008
Friday, October 3, 2008
What a GREAT ceremony! I thoroughly enjoyed it! Even though there was a sad 2 year old sitting 1 row behind me on the bleachers, I didn't even care (really, I was thinking, "I'm SO glad I left the kids at home - LOL!) I was a little annoyed with the other people getting annoyed with the kid, though. That poor mom had a lot on her plate, and the poor kid didn't want to sit still. Give the poor lady a break. Rude stares don't help. Anyway :)
Since I was at family day SO early yesterday, I decided to get to graduation, I decided to get there a little later. I ended up in my seat by 8:35, graduation starting at 9am. I was there in plenty of time. Here's some pics of the men marching in.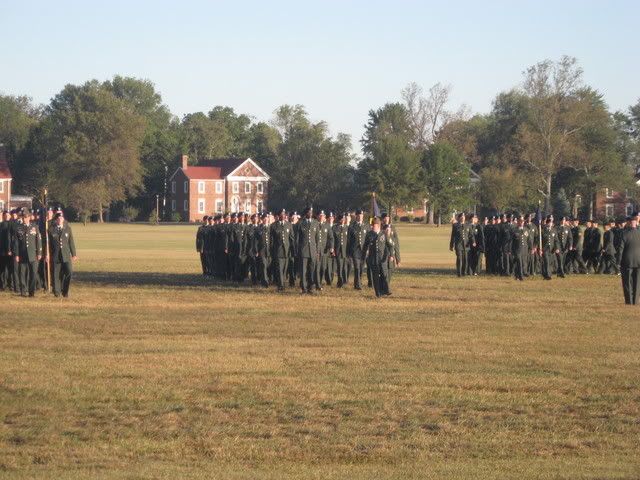 There was a REALLY awesome Military band that played the music. Wonderful! Of course, I was in band all through middle school and high school, so I'm a bit partial to bands, you know! Former band geek here!
The ceremony started with a narrator who told the history of Fort Knox. Next, we stood for the Star Spangled Banner. There was a speaker who talked about what these men have been through the last 9 week on their way to becoming the soldiers they are today. They presented awards for the best Drill Sargent, best PT stud, best overall soldier, and best...um.. something else (ha!) for both Companies. The 2 best overall soldiers (one from each company) spoke.
The guest speaker was Colonel Paul J Karweik. You know, I was reading in the little program trying to decide what he did, and there's a whole page of his accomplishment, but honestly, I really don't speak army so well. So, let's just say that he's done a lot of GREAT things for our country, and that he have a very nice speech, and call it good :)
After all the speakers were finished, the band started playing, and marching around the field. The companies and platoons fell in line behind. As the men passed the bleachers, we were supposed to stand. They circled around the field, then marched off.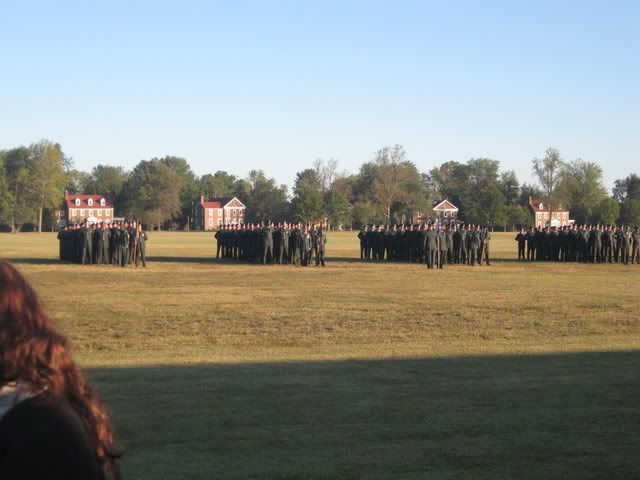 Once they were all gone, the audience was released, and we hurried down the field to find our soldiers. Of course, Captain America found me first - hehehe. Dang! I tried, but they still all look the same to me! My new white coat stands out pretty good!
We got about 20 mintues with our men, to say our goodbyes. And guess what? I wasn't sad and teary! I knew that he had his phone, and that he'd call me from the bus. I was just happy to see him for 20 minutes, to get a few more pictures, and to get some more kisses! Isn't he cute!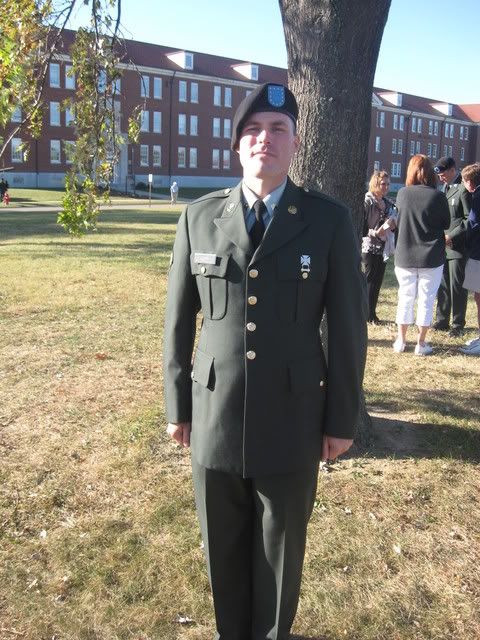 At about 5 mintues before time to go, we headed back over to where they were getting into formation.
Here he is with his men. He was all smiles! Today was a good day for him! I'm SO proud, sweetheart!!!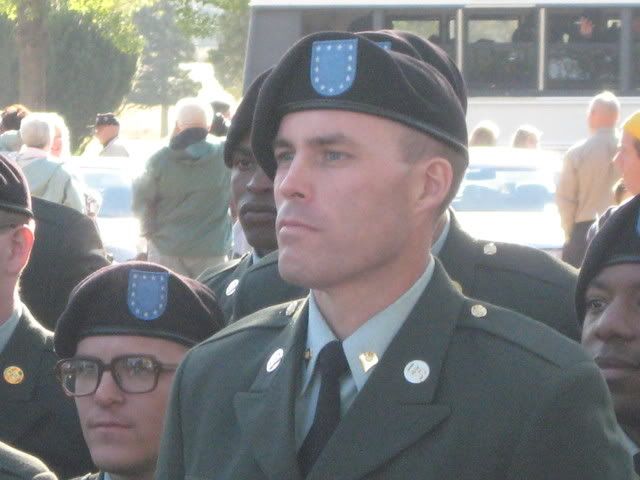 Oh yeah, see those dorky glasses that some of the guys are wearing? Well, that's standard Basic Training issued eyewear. If you have to have glasses, you have to wear those. They call them Birth Control Goggles. I'd have to say that I agree. How embarrassing! Nasty, nerdy things! Poor guys :)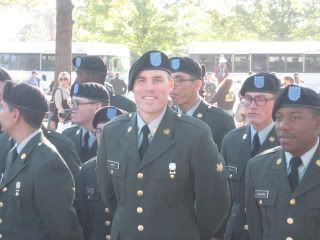 And, here's the company photo. It's actually a photo of a photo, so it's kinda funny. But you get the idea. Can you see Captain America? He's the 6th guy from the left, 2nd to back row. He's got his intense face on (better than scary as a description). Hehehe.
Here's a little video I took of the guys doing their "chow cheer". It's a cadence, and the only time that they do it is when they line up for chow. Basically, it announces that they are there. It's kinda funny, and I thought that they boys would like it! "Give us the plate, or we'll shoot you in the face". Hehehehehe!
Apparently, when they marched off, they only went a ways off, then stopped and did more cadences. I didn't know this, and missed the whole thing. Dang! That would have made for some good video! Oh well. Next time - LOL!
And, here's his soldier picture. Cute, but VERY intense. That's his "don't mess with me" face - ha! Actually, he was trying hard not to look so hard. Goodness! I got here RIGHT in time! He was becoming WAY to hard if this was his "I'm trying to look nice" face - LMBO!!!
So, that was graduation for me! I stopped by the PX (Army store - Wal-Mart-like) on the way back to the hotel, and spent 1/2 of my last paycheck on gifts for the kids and my parents! And, I got myself a new pair of Jeans and an Army wife Tee shirt. Check out this CUTE outfit that I found for Tom (almost 9) and Joe (5). (This isn't my kid, just the clothes - LOL!)
It was SO fun to just go walk around with not plan and no time schedule. Can you tell that I'm SERIOUSLY overbooked most of the time! Captain America called from the bus while I was there. He had 1 bar on his phone, and was gonna try and charge it when they stopped at the rest stop. It was good to hear is voice. I don't feel isolate or cut off from him like I did last time. It's SUCH a good feeling!!!
I'm now back in the hotel, blogging, resting, napping, watching TV, designing, and talking on the phone to my man. He charged his phone at the rest stop, talk to me on the pay phone, and then called back from the bus. I can do this!!!! Good think BCT only comes once :) That was hard :) But, we were "Army Strong", and we got through it! Thanks to everyone for your letters, notes, prayers, and good thoughts! You guys really helped us through!
Posted by

Bethany
at 2:22 PM
7 comments

So, today was family day at Ft. Knox. I headed off to base at about 8:15, and after sitting and waiting in the car for 15 minutes at the place I "thought" it was at, we were directed somewhere else
We all waited there until 9:00, and then waited some more - LOL! The term, "hurry up and wait" was tossed around a lot. At about 9:25ish, the head guy (yeah, not speaking Army so well - LOL!) told us the rules for the pass (no alcohol, no tobacco, no entering into contracts), and then they marched out the company.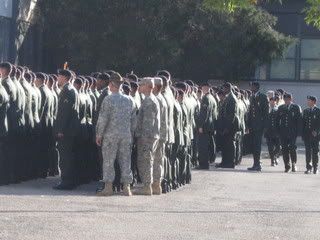 We were all standing behind a white tape marker, and when the guys were finally released, it was a madhouse. DH saw me before I saw him, and he had a HUGE smile on his face! It was WONDERFUL seeing him again!!!! Here we are in front of his barracks.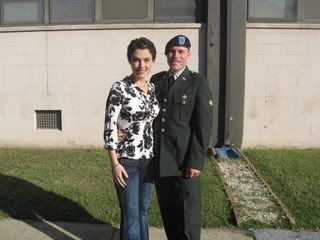 I signed him out, then we headed for the rental car. The closer we got to the car, the more "normal" he seemed. I think he was having trouble switching out of "soldier" mode while still being there. Here's a pic from the parking lot. What a cutie! He's lost SO much weight since I sent him here!!! Holy cow!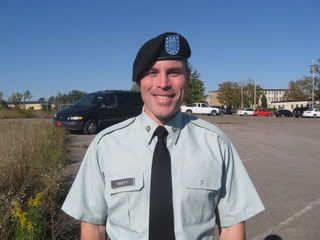 We left base, and came back to my hotel. It was so nice to just hang out, and be "normal" again! It was like he'd never left. He was back to his happy, cheerful self
I feel a little bad, but I am SOOOOOO glad that I left the kids at home - hehehe!
We went out to lunch at Applebee's (let me tell you ladies, they just want to EAT!!!!! when they go off base - they're STARVING!), and a quick trip to Wal-Mart for supplies for him to take to OCS. Then back to the hotel.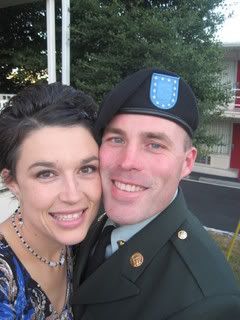 We went out to eat at a Mexican Restaurant, which was FABULOUS! So yummy. Again with the eating. He REALLY had to focus on not just scarfing it down. I guess they regularly have to do that, and it's a hard habit to stop. Poor thing! Here's him with his "fried" ice cream. He was so full from the giant taco salad, that he could only eat a few bites.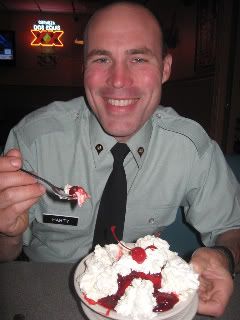 The guys were supposed to be back at the barracks BEFORE 2100 (9pm). We were in the parking lot at 8pm, and just sat there and chatted. It was so nice. I think we're both "recharged", and ready for the next 16 week training. He'll have his cell phone for the next training, so it should be a lot better. Here's some pics, just before the guys got back into formation.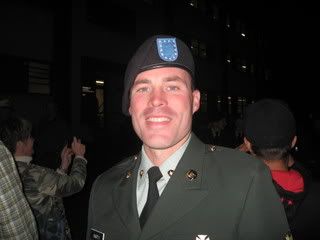 So, tomorrow at 9am is the Graduation. I get 15 minutes with him after graduation, then he gets on a bus for Ft. Benning. Wish me luck!!!!
Posted by

Bethany
at 12:15 AM
8 comments